State-of-the-art Textile Laser Cutters
ILS, Inc. has built the very best Laser cutting material processing machines and given unparalleled customer support since 1998. ALL other equipment manufacturers in this industry have followed in their footsteps." ~ Patrick J Momany, Patent holder
ILS was the first manufacturer in 1998 to build a
truly Universal Fabric Laser Cutter
Whether you're a newcomer or a seasoned veteran in the use of the latest technology for cutting soft goods, ILS helps you increase the quality, reliability, and productivity of your operations regardless of size. Whatever your production needs, ILS supplies you with the very best in technology through its unparalleled knowledge, technical support, and maintenance.
Not sure what type of laser cutter works best for you and your business needs? ILS has the expertise and the equipment to match any cutting demands you may have. Just email or give Steve a call and he will help you find the perfect match for your company's needs. Whether your business involves medical textile cutting, custom apparel, cutting for the automotive industry, or military designs and equipment, ILS is the cutting expert for you.
ILS offers a number of laser cutting services on its in-house laser cutting machines. With more than 20 years of experience in the textile laser cutting industry, there are few laser applications that we have not seen. We have multiple machines with capabilities of kiss cutting as well as single and multi-layer cutting of a variety of materials including textiles, gaskets, medical fabrics, and technical textiles for a wide range of applications from the apparel industry to the automotive and military industries.
If your business currently uses knife cutting or dye cutting, then a laser cutter may be a good option for you as you work to increase the quality and the efficiency of your manufacturing process. Whether you are new to the world of laser cutters or already have a great deal of experience with laser cutting, Steve Widincamp and the folks at ILS will provide you a fair, informed, and honest assessment of your existing and future needs in the world of laser cutting machinery.
Our machines are equipped to cut a wide variety of textiles along with many other natural and human-made materials. Today, the machines we have in the field are cutting materials from the traditional twill or felt for applique to more advanced materials including Kevlar and other technical textiles for the military and aerospace industries. In addition to these textile applications, our systems are used to cut automotive door panels, and gaskets, along with other automotive parts made from plastics, paper, and other substances.
Our More Standard Machines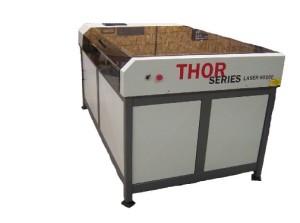 THOR Cutter Series
ILS would like to introduce our proven Thor Cutting Series. These machines are designed and built using state of the art manufacturing techniques. Their speed and versatility allow production cutting of a vast number of materials. The ability to accurately control the power in real time, allows the end user tremendous.The ability to control the power and speed of the cutter from the software allows you to create intricate functions like engraving, kiss cutting, and etching on a large variety of materials, such as: Sports Twill, Felt, Suede, Leather, Vinyl, Glass, Anodized Aluminum, Stone, Stainless Steel, Ceramic tile, Kevlar, and many more
The latest technology has been incorporated into the Thor Series. Touch Screen panels are available with real time power and speed control. The frames of our machines are Jig Welded out of Steel. All of the machined components are made in the brand new state of the art CNC machine centers. All of the hardware in the machine is stainless steel. All steel parts are powder coated, and all aluminum parts are anodized. All shafts in the machine are stainless steel as well. All bearings are sealed for long life.
The machines are fast, efficient, and easy to use. It requires no special tools to operate or repair. It can be operated by non-technical users, and job setup is minimal. The machine does require venting to the outside of the building.
Our standard machines have an 18" x 24" or 36" x 36" cutting field. The larger format machine has a 36" x 60" cutting field. They can be built with most any size CO2 tube the customer requires.
Our cutters come with 30-watt air cooled to 200-watt water cooled units.
The Thor can be configured with a broad array of options to give it the ability to meet your specific requirements.
Options
Roll Feed Systems
Shuttle Bed System (Manual or Auto)
Custom Bed Sizes and Cutting Fields
Split Beam Cutting Heads
Custom Extraction Systems
Conveyer Bed Systems
AEGIS Cutters
ILS is also proud to introduce our proven Aegis line of cutters.  These machines are custom-built and designed for the cutting and engraving markets.  The machines are designed as a cost alternative to our Thor Series Machines.
The Aegis Series Machines are a complete Laser Engraving and Cutter System.  They also come with a One Year All Inclusive Warranty.  On-Site Installation and Training are also available at additional cost.  All Aegis machines are assembled in the United States and are products of ILS.  The Aegis Series System comes in these different bed sizes:
12"x20"
24"x36"
32"x48"
48"x96"
and a 24"x50" optical system