ILS builds a large range of laser cutting machines from 10-watt machines designed for the engraving industry to 500-watt machinery for the metal cutting industry. These machines cover a large array of designs from flatbed cutters to conveyor machines. ILS can custom build any machine to meet the exact size and power specifications of your unique cutting needs. With over 25 years experience in the laser cutting machine industry, ILS machines have proven over and over to outlast comparable machines from most of their competitors.
Our More Standard Machines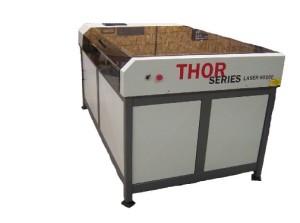 THOR Cutter Series
ILS would like to introduce our proven Thor Cutting Series. These machines are designed and built using state of the art manufacturing techniques. Their speed and versatility allow production cutting of a vast number of materials. The ability to accurately control the power in real time, allows the end user tremendous.The ability to control the power and speed of the cutter from the software allows you to create intricate functions like engraving, kiss cutting, and etching on a large variety of materials, such as: Sports Twill, Felt, Suede, Leather, Vinyl, Glass, Anodized Aluminum, Stone, Stainless Steel, Ceramic tile, Kevlar, and many more
The latest technology has been incorporated into the Thor Series. Touch Screen panels are available with real time power and speed control. The frames of our machines are Jig Welded out of Steel. All of the machined components are made in the brand new state of the art CNC machine centers. All of the hardware in the machine is stainless steel. All steel parts are powder coated, and all aluminum parts are anodized. All shafts in the machine are stainless steel as well. All bearings are sealed for long life.
The machines are fast, efficient, and easy to use. It requires no special tools to operate or repair. It can be operated by non-technical users, and job setup is minimal. The machine does require venting to the outside of the building.
Our standard machines have an 18" x 24" or 36" x 36" cutting field. The larger format machine has a 36" x 60" cutting field. They can be built with most any size CO2 tube the customer requires.
Our cutters come with 30-watt air cooled to 200-watt water cooled units.
The Thor can be configured with a broad array of options to give it the ability to meet your specific requirements.
Options
Roll Feed Systems
Shuttle Bed System (Manual or Auto)
Custom Bed Sizes and Cutting Fields
Split Beam Cutting Heads
Custom Extraction Systems
Conveyer Bed Systems
AEGIS Cutters
ILS is also proud to introduce our proven Aegis line of cutters.  These machines are custom-built and designed for the cutting and engraving markets.  The machines are designed as a cost alternative to our Thor Series Machines.
The Aegis Series Machines are a complete Laser Engraving and Cutter System.  They also come with a One Year All Inclusive Warranty.  On-Site Installation and Training are also available at additional cost.  All Aegis machines are assembled in the United States and are products of ILS.  The Aegis Series System comes in these different bed sizes:
12"x20"
24"x36"
32"x48"
48"x96"
and a 24"x50" optical system